As you may have guessed just from my little rambles around our local woods, northern Maine is blessed with a wonderful abundance of beautiful plants and wildflowers. And our woods are rather "tame" compared to much of Aroostook County, some of which is still very wild. For a long time I didn't think anyone had taken a serious interest in the flora of Maine and particularly of Aroostook County, but I was wrong!
I first read about Kate Furbish about a year ago and right away felt as if I'd found a friend! A lady who knew her describes her as "a little woman with uplifted head...in animated talk, or with bowed face using her keen eyes along a forest trail, or up a mountain path. She has the sort of eyes that are made for seeing, and nothing escaped the swift circle of her glance. Her feet were as untiring as her eyes, and she could out-last many a younger woman on a cliff-side climb or river-bank scramble. Always obliging to tyros in the pursuit of botany, ready to name old floral friends on the minute, and to describe their habits and habitats, she was the most delightful of comrades..."
Kate Furbish (1834-1931)
Miss Furbish was born in Exeter, New Hampshire on May 19th, 1834. A year later her family moved to Brunswick, Maine. She received a fine education, studying painting in Portland, Boston, and Paris, as well as French literature which she is said to have read as well as English. She showed an interest in plants even as a child, when her father took her and her 5 younger brothers for walks in the nearby woods, but she developed a serious interest in botany in 1860, at the age of 25, after attending G. L. Goodale's lectures. She became very ill the same year and spent the next several years recovering her health, but by 1870 she had begun her self-appointed task of documenting and painting the plant species of Maine. She traveled over thousands of miles in the state between 1870 and 1908, through untouched wilderness and often alone. She never married.
In 1880 and '81 she made two trips to Aroostook county, which are of special interest to me since I live here! 😊 In fact, her most important discovery was made in 1880 on the banks of the St. John River in the northern part of "the county". Furbish's Lousewort (Pedicularis furbishiae) grows only along a 130-mile stretch along the banks of the river. It was thought to be extinct by 1974 when a $227 million hydroelectric project was proposed but was rediscovered 2 years later and the project was deauthorized by Congress in 1986 because it would have severely reduced the plant's extremely limited habitat.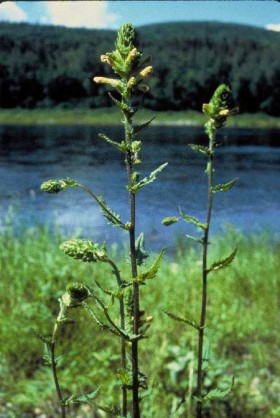 Furbish's Lousewort (Pedicularis furbishiae)
Miss Furbish wrote about her experiences and discoveries in The American Naturalist under the title A Botanist's Trip to The Aroostook. The long list of botanical names may not prove interesting to anyone but devoted plant-hunters like me (some of them are out of date anyway) but her description of Aroostook in its early days is very fascinating, especially when she talks about the stagecoach driver loading his gun in anticipation of trouble!
​On June 6th. '81, my Western friend and I left Orono (Penobscot county) for Northern Maine, by way of the railroad as far as Mattawamkeag, where we passed a day pleasantly in following the banks of the river for flowers. On the stream of the same name I saw for the first time Alnus viridis, which afterwards became a daily occurrence; also Cratagus coccinea, with three of its forms; pyrifoiia and mollis being quite abundant, as I found in September, when the fruit had matured. We traveled by stage to Patten (still Penobscot county), a distance of 35 miles through a most delightful country, but saw no new weeds by the roadside. At this place I procured seven of the plants, which were gathered on the Aroostook river the previous year in fruit. Perhaps this locality may be called the boundary line of some of these plants, as they do not grow either at Orono or Mattawamkeag (in writing this article I shall only speak of what I saw), but at Patten they were abundant. One morning we came across a large number of Cypripediums, among which was a purple acaule with two perfect flowers growing back to back. The greater part of them were pure white with yellow-green sepals and petals.
After a week spent there, taking with us 16 new sketches and a large package of pressed plants, we staged it to Ashland, a ride of 48 miles. The beauty of the country begs description. For a distance of 12 miles we were in full view of Mounts Ktaadn, Double and Round Top. A good-natured driver told us the names of all the hills, streams and ponds. It may seem strange to the reader that we discovered no new plants in this long ride, but the only novelty spied was a rose-pink Viburnum lanlanoidcs. Amclanchicr Canadensis vars. rotundifolia and oligocarpa were abundant but not new, neither were any of the shrubs. Taxus baccata van Canadensis is quite common, but straggling and partially dead. Acer Pennsylvanicnm and spicatum is the prevailing underbrush in many of the forests.
The Aroostook River
But for our own voices the stillness would have been oppressive; for a distance of many miles that day we did not find an opening. The mail agent said that between us and Canada on one side there was probably no house to be found. In one plantation through which we passed there were but two families living'. There were but few houses along the road, yet one might almost believe that a village would spring up some time in this untrodden wilderness, whose tangled undergrowth makes it almost impenetrable. The forests often look black with the Abies nigra ("Black growth") and the dead trees are oftentimes covered with long green moss. We passed several cabins which are occupied by the lumbermen during the winter months. Ashland is a small, "finished village", situated on the Aroostook river. The people whom we met there are hospitable and refined. I added Arabis perfoliata, Rosa nitida, and Primus pitmila to my list; also learned through Mrs. G. D. that Trillium album grows on their farm, but I was too late to procure it. This immediate region is said to be rich in minerals. After another week profitably spent, we took passage for Fort Kent, 48 miles due north, by a corduroy road. The first day we passed at Portage Lake, a famous resort of fishermen. We gathered some Potamogetons of great size, but they were not in flower, and the day was productive of pleasure alone. For miles the forests were burned and still smouldering, the work of careless gunners, it is supposed. A dismal swamp, indeed! The two fire- weeds, Ereclithites liieracifolia and Epilobium angustifoliiim, are found here as elsewhere on burnt ground, although I have been told that the first named had never been found in the county; but it is quite abundant on the line of the railroad. The country is decidedly mountainous; the one, two and three mile hills would have been decidedly monotonous but for the lovely foliage and the frolicking brooks. In many places the road was "repaired", and the ditches at the sides were frightful for hypersensitive nerves to contemplate. Eagle lake was the great feature of the ride, it lays along the route for a distance of 5 miles. No part of the journey furnished excitement until the driver took his pistol out to load it, saying that he should have done so before starting; that he had been fired upon twice in two years, and might need to use it before reaching Fort Kent. He also stated that a peddler who had left this place by that road was never heard from and that his bones were probably bleaching in the woods somewhere. Although we were on the alert all the afternoon, we only saw the enemy, for whom he had prepared, quietly standing in their doorways looking as demure as possible. At 9.30 Saturday night we found ourselves in Major D.'s hospitable home, 200 miles due north of Bangor. Fort Kent may be called properly a French town. It is situated on the Fish river (its original name), which empties into the St. John river at this place. Nature has done much for this section of the State. The scenery is fine, the air is cool, and the people seem as happy twentytwo miles removed from a railroad (Edmundston, on the Canada side, being the nearest point), telegraph, doctor or drug store as those do who have all the advantages of hourly intercourse with the world. It is a healthy place also, and the people welcome strangers to their midst with the characteristic hospitality of the county. Space will not admit of the list of plants made here, but the more rare ones were Pyrola rotundijolia and secunda, with their lovely varieties; also P. minor, Vacciniutn axspitosum, V. uliginosum, Clematis verticillaris (Mr. Niles), and Pyrus sambucifolia. The swamps at this place afford several orchids; these dark, damp places are favorable to this family of plants. Habenaria orbicidata often grows two feet high, with leaves seven by nine inches; H. viridis also very large. H. obtusata and Listcra convallarioides abound here. It is hard work to procure them, requiring many a tumble and scratch, and the thought must often come to the mind of the most practical, Does it pay? Why all this toil for "weeds" which have little beauty save to the eye of the botanist? Yes, it does pay; our natures evermore grow young among the primitive pines. The scenery is wild and the silence oppressive. Some of the swamps seem like ponds filled with trees; the fallen ones often form pens, and how to get along, though armed to the teeth with waterproof and rubber boots, one does not know always. Suffice it to say that people who care to visit such places find their way out of them feeling well paid for the trouble. It is interesting to trace the outlines of large trees in the primitive woods. Some have a little bark left, while in other cases there is merely an outline of green or brownish dust. " How old are you? " I asked, half frightened at the sound of my own voice. I did not see a snake either year, and the squirrels and birds did not seem startled, as they do elsewhere. There are but few flowers in the pathless woods; many a hard day's work was lost in search of plants in the primitive forests, but in the "clearings" they are more abundant. The banks of the rivers and ponds furnish more still. St. Francis, 18 miles further up the St. John river, afforded me a white form of Primus Penn sylvania, Rhinanthus Crista-galli, Euphorbia helioscopia, Potcntilla frigida, Gentiana Andretvsii, jfuncus Vaseyi, Graphephorum melicoidis, and Triticum repens. The small islands in this neighborhood are rich in interesting work. On the way " out " in September I gathered Goodyera Menziesii and Botrychium lanceolaturn; at another place B. simplex was abundant, and at Houlton Lappa officinalis vars. major and tomentosa. The former grows five feet high and the lowest leaves often measure more than 1 8 inches across. These are but few of the many interesting plants which grow in this fascinating county. Go and see.
I'm sorry to say I don't know as much about Olof O. Nylander, except that he was born in 1864, in Ysted, Sweden and emigrated to the US in 1883. He was a self-taught naturalist, noted for his work here in Aroostook County and surrounding areas of Canada. The Nylander Museum in Caribou was opened in 1939 and he served as its curator from then until his death in 1943.
Olof O. Nylander (1864-1943)
This very interesting little article entitled The Orchids of Northern Maine was published by Mr. Nylander in a 1921 issue of
The American Naturalist
...
The soil of the eastern part of Aroostook County has long been noted for its fertility, and the many beautiful flowers that grew originally in our forests amply prove it to be so. The strip of country lying south of the 47th north parallel and west of the 68th meridian, including the towns of Caribou, New Sweden, Woodland, Perham and Westmanland Plantation is exceptionally rich in the varieties of native plants.
The Bangor & Aroostook Railroad station in Caribou is at an elevation of about 407 feet. The Bangor & Aroostook station at New Sweden is at an elevation of 700 feet arid the hills in the immediate vicinity rise to above 1000 feet.
When the Aroostook River Valley was first settled, about one hundred years ago, there were many trees and plants growing which are practically exterminated today. Originally our flora and fauna were of the forest types and everything grew under shelter and shade; so when the forest was cut and burned, all the delicate and beautiful colored flowers disappeared and the imported European weeds are taking their places.
The early settlers were largely guided in selecting their lots of land by the forest and flowers that grew upon it. Many of the plants were used for medical purposes; so the pioneers had much more knowledge of the native flowers than the present generation has.
I first came to Caribou in July, 1883, and have made it my special interest to study and collect all the information possible about the geology, paleontology, conchology, and botany of Maine, and especially of Aroostook County.
We often read in publications on botany or travel, or in novels and florists' catalogues, of strange and beautiful Orchids from many parts of the world, and the word Orchis has become an expression for something elegant and novel.
It is a strange fact that so few know we have around Caribou about thirty species of Orchids, some very beautiful in colors and strange in appearance; and I hope that by careful search we shall find a few more. Many of the Orchids are rarely seen, and they have never received popular names; so the only way to make these gems of Nature popular is to have good illustrations made of them and the localities where they grow.
There are many things to prove that the section referred to above is very favorable for the native Orchids. They obtain large size, are very richly colored, and many of them, like Cypripedium parviflorum, C. pubescens and C. reginae, have two flowers on the stem, and this is rather rare in other parts of the State.
I have in my possession a specimen of Calypso bulboso collected on my farm in Woodland in the spring of 1908, with two flowers on the stem-—probably the only double-flowered specimen on record.
I hereby present a list of all the Orchids I have found in the north of Maine, with their common and scientific names, and if limited in distribution the locality is given and other notices, that will aid lovers of these plants to find them...
(He then goes on to list several, including Showy Lady's Slipper, Large and Small Yellow Lady's slipper, Ram's Head Lady's Slipper (very rare), Small Round-leaved Orchis, Moccasin Flower, Showy Orchis, Long-bracted Green Orchid, White Bog Orchid, Rose Pogonia, Lady's Tresses, Twayblade, Rattlesnake Plantain, Adder's Mouth, and Fairy Slipper
A couple months later, the following challenge was published in the same magazine...
"Many readers of the Naturalist have no doubt been interested in Mr. Nylander's description of the Orchids of Aroostook County. People who are accustomed to think of Orchids as inhabitants of tropical jungles are often surprised to learn that there are many species which prefer a northern climate, and which thrive in cold bogs or in wet Maine woods. Will not the botanists throughout the state send lists of the Orchids that grow in their vicinity to the editor of this department? Do not describe them, but tell in what towns and in what sort of environment you have found them, whether they are abundant or rare, with any other special note. Make use of the names you are familiar with. The editor of this department would like to receive such a list from every county in the state. Let us see which county will first get ahead of Aroostook in the size of its list."
I think it would be interesting to find out if any of the counties were able to claim more orchids than Aroostook, but unfortunately it seems to be becoming more and more difficult to find these publications online. One thing is for sure though, our cold little section of Maine is a special place! Mr. Nylander finished his article with the good advice to "Study your home surroundings before you go to other strands". I used to be always wishing to explore distant lands that I imagined would be more interesting, but I'm learning now what a wealth of beauty is to be found right in my own backyard! 😊